How To Send Alloy Wheels In The Post
Alloy wheels are one of the most commonly-posted items in the UK, which may surprise you due to their size and weight. With traders, mechanics and people simply looking to trade in their wheels for newer models, there are many people who need to be able to send alloy wheels in the post. If you are one of those people, Parcelbroker can offer you a range of options when it comes to choosing an alloy wheel delivery service.
Read on to find out how best to package your alloy wheels before posting them to reduce the risk of damage in transit, and how to choose the best courier to make sure they are delivered safely and securely, and in the most efficient manner.
Package your alloy wheels
Wrap the wheels
For many people, their car is their passion and they take real pride in having a great set of alloy wheels. For this reason, it's vital to ensure alloy wheels are protected from scratches and dents when in transit, as this can completely ruin the look of a set of shiny new wheels. This is where good wrapping comes in; when sending your alloy wheels in the post, we recommend taking time to ensure they are wrapped as well as possible.
We recommend wrapping each wheel in multiple layers of bubble wrap. This should protect them from impact damage, as well as the nightmare scenario of water damage. Take extra care to reinforce the protection around the face of the alloy - this is the area where you really don't want any scratches. Secure the bubble wrap with strong parcel tape and you're ready to box the wheel!
Box the wheels up
The next step in packaging your alloy wheels is to find an appropriate cardboard box for them to go in. As always, the item should fit snugly inside the box, and there should not be too much excess space around it.
A wheel should be positioned in the very centre of its box, and should never touch the edges. The extra space around the wheel should be filled completely using soft packaging material - ideally polystyrene packing chips or scrunched paper.
It is always safer to send alloy wheels in individual boxes. Packing multiple wheels in one box could lead to them knocking against each other, increasing the chance of damage. However, if you need to send multiple alloy wheels in the box, then make sure you have packaged them individually and make completely sure they are secured well away from one another.
All you need to do then is seal the box well using several layers of parcel tape. When using labels, you should make sure they read clearly and are securely fastened to the package. It may also be worth reinforcing the edges of the box if possible, to give the alloy wheels extra protection from impacts when in transit.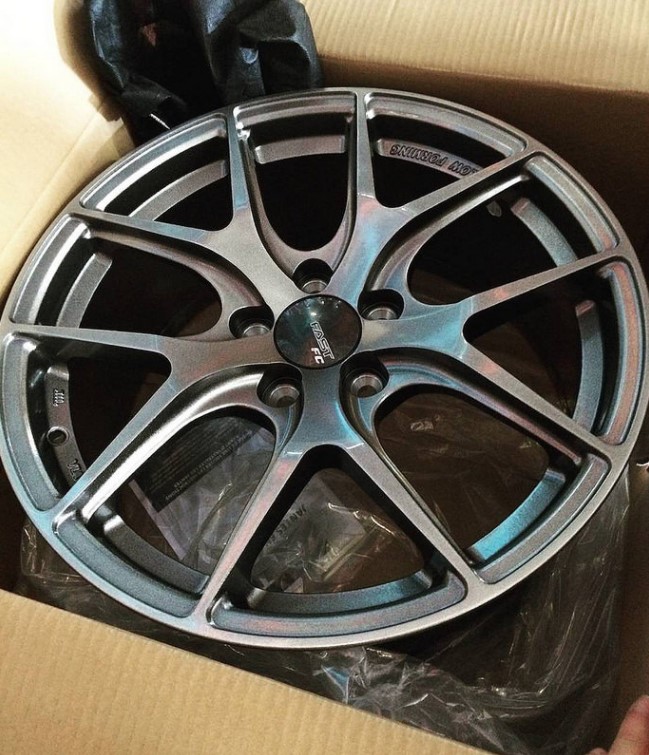 Find the right courier
When thinking about sending your alloy wheel in the post, you'll need to consider which courier is best for you. This is especially important for sending alloy wheels due to the variation in size and weight between different wheels, as well as restrictions certain couriers may have.
In order for you to choose a courier, you should consider the size and weight of the alloy you're sending, matching this to the best delivery option and double checking for any restrictions which may cause the courier to reject the package.
Consider if you want your delivery to be next day, or if you want to offer the option of tracking for your alloy wheels. After all, it is probably worth the extra peace of mind to be able to track your alloys on their journey.
There are many couriers to choose from so you should be able to find one which meets your needs, but you'll need to do your research to find the right one for your wheels. To do this, use our online booking form to get a quote from one of our trusted, reliable couriers.