The technology of tomorrow is going to have a huge impact on the delivery industry. But what about the short term? We've pulled together forecasts and data from industry trailblazers, as well as top parcel delivery experts, to provide you with the insight you need for the year ahead. From increasing competition for city warehouses to augmented reality in the workplace, here are the top 5 parcel delivery trends to prepare for in 2019.
Ready for the Last Mile - City Warehouses

High-profile trials of wheeled and flying drones may seize the imagination, but high-speed delivery in 2019 will depend more on city-based warehouses than technological leaps. Amazon is supporting its "Amazon Now" one-hour delivery service by buying up small warehouse units in cities across the world, with drivers ready to rush out deliveries at a moment's notice.
There's good reason for them to do so; fast, professional deliveries are a big attraction for online shoppers, especially millennials. Demand for high-speed delivery services is going unmet, as this graph shows: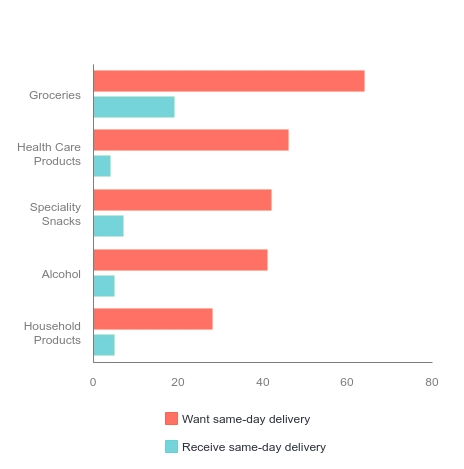 Groceries: 64% want same-day, 19% receive same-day
Health Care Products: 46% want same-day, 4% receive same-day
Specialty Snacks: 42% want same-day, 7% receive same-day
Alcohol: 41% want same-day, 5% receive same-day
Household Products: 28% want same-day, 5% receive same-day
Source: https://www.dropoff.com/blog/retail-delivery-consumer-survey-shoptalk-2018
Although delivery services have been quick to recognise the demand for speedy delivery, they are struggling to fulfil it. Late deliveries have increased by 10% and damaged deliveries by a whopping 33%. Disruptors are finding it hard to deliver the right blend of speed and quality while also turning a profit - UberRUSH closed because it couldn't make deliveries pay, while trust in peer-to-peer delivery services like Nimber sits at only 14%.
To make fast delivery services work, businesses need to combine existing expertise with city centre warehousing. However, the UK is experiencing problems; 75% of total warehouse space is already booked. This is partially driven by Brexit stockpiling, but also by Amazon's significant investment in city centre warehouses for Amazon Fresh. What we might well see in the year to come is Amazon consolidating its hold on high-speed UK deliveries; it has the infrastructure and expertise to deliver what customers are demanding, while other businesses will struggle.
Your takeaway: Consumers continue to demand better, faster delivery services. Small shippers and new entrants struggle to meet their needs, but existing big players are able to.
It's Time To Prepare For Automation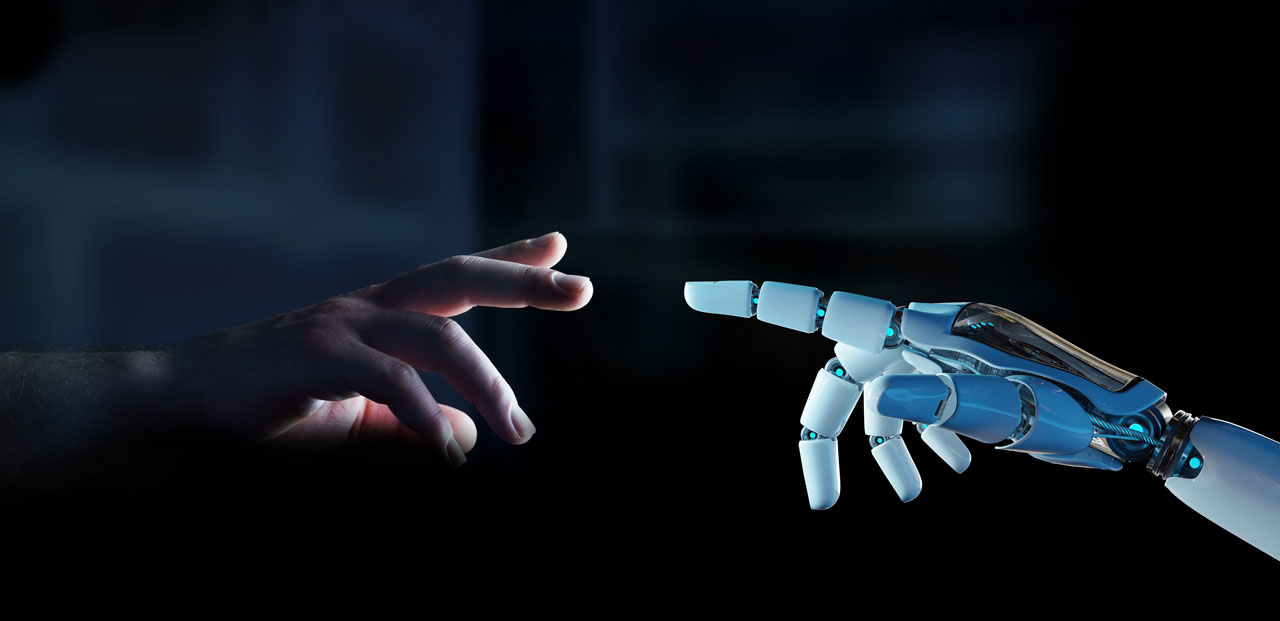 Price is key in B2B shipping, and half of the costs are tied up in last-mile deliveries. The biggest expense here is the human element, so companies which can cut down on staff costs will be able to out-price their competitors.
There's little doubt that sooner or later robotic delivery systems will become the norm - in fact, they're already delivering groceries in Scottsdale, Arizona. High-profile demonstrations like this, and of autonomous delivery vehicles filled with robot dogs, set the scene for the future. However promising this technology is, though, it's still going to take years for robot couriers to become a daily sight.
However, we might well see automated deliveries enter the B2B sector before the B2C one, because the benefits of automation are easier to realise in commercial deliveries:
Automated couriers can run round-the-clock. Nobody wants their groceries to arrive at 4am, but shipments destined for warehouses can easily be scheduled for overnight delivery. This also allows cyber-couriers to use motorways at off-peak hours, avoiding traffic and streamlining delivery times.
Robot delivery systems can be further automated at the point of delivery. Specialist warehouse loading bays can be installed to make receiving automated deliveries swift and straightforward. As Ocado's Andover warehouse demonstrated (before suffering a fire earlier this year), a fully-automated warehouse is an achievable reality.
Your takeaway: No robots this year (or the next), but it will happen soon. Smart businesses are planning ahead; when automated deliveries come around (and they will), it will disrupt the market.
Sustainability: Decarbonising Deliveries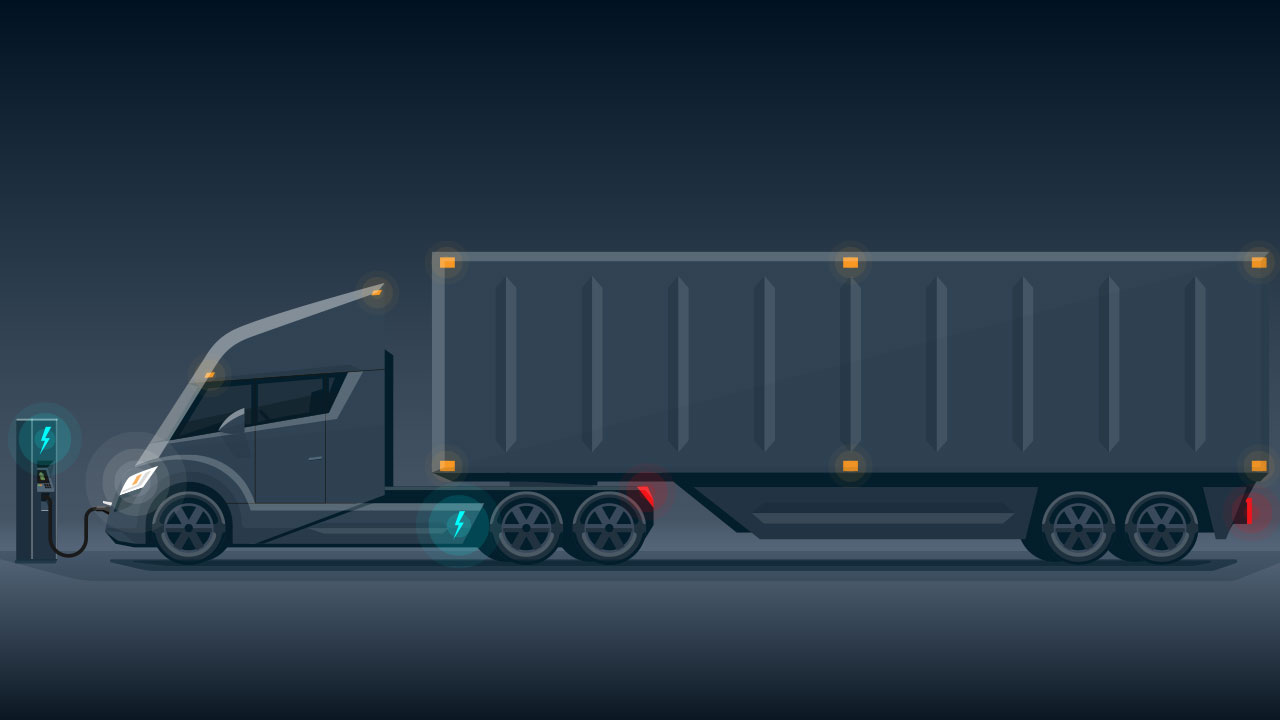 Pam Danziger of Canvas, a market research firm, claims that 2019 will be the "year that responsible consumerism goes mainstream". She could well be right. Delivery businesses large and small are seeing the benefits of environmental awareness, but this isn't all down to a sudden desire to protect the environment.
One cause of the shift towards greener delivery systems is led by national governments. The UK Government is looking to expand the London emissions zone to other cities, notably Leeds, Birmingham, Manchester, Sheffield and Southampton. Couriers are already testing emissions-free delivery fleets to comply with these zones - Hermes has just conducted a trial of 32 electric vans in London.
They're not the first carrier to invest in electric delivery vehicles; Deutsche Post has been running an electric fleet in Germany for years, and has recently sold 200 of their StreetScooter designs to a British milk delivery company, Milk & More.
Environmental Improvements Offer Efficiency Benefits
Acting in combination with the stick of fees is the carrot of improved running costs. One area that's being explored is the reduction of re-deliveries and returns. By more reliably completing deliveries on the first attempt, businesses can minimise the number of trips needed to be successful. One key improvement will be enabling customers to handle parcel delivery and collection without intervention from the courier. DHL has plans to implement self-service parcel drop-offs and drive-through collection points, ensuring that no unnecessary deliveries are made.
They can also use clever return consolidation services like ZigZag Global, which routes returns to the locations they're most likely to be resold or even lists them automatically on resale marketplaces. Fewer journeys means reduced operating costs, but it also cuts back on emissions - good news for delivery firms and the environment.
Your takeaway: Efficiency, regulatory compliance and cost-saving measures will drive couriers to make environmental improvements this year.
Improving Efficiency With Augmented Reality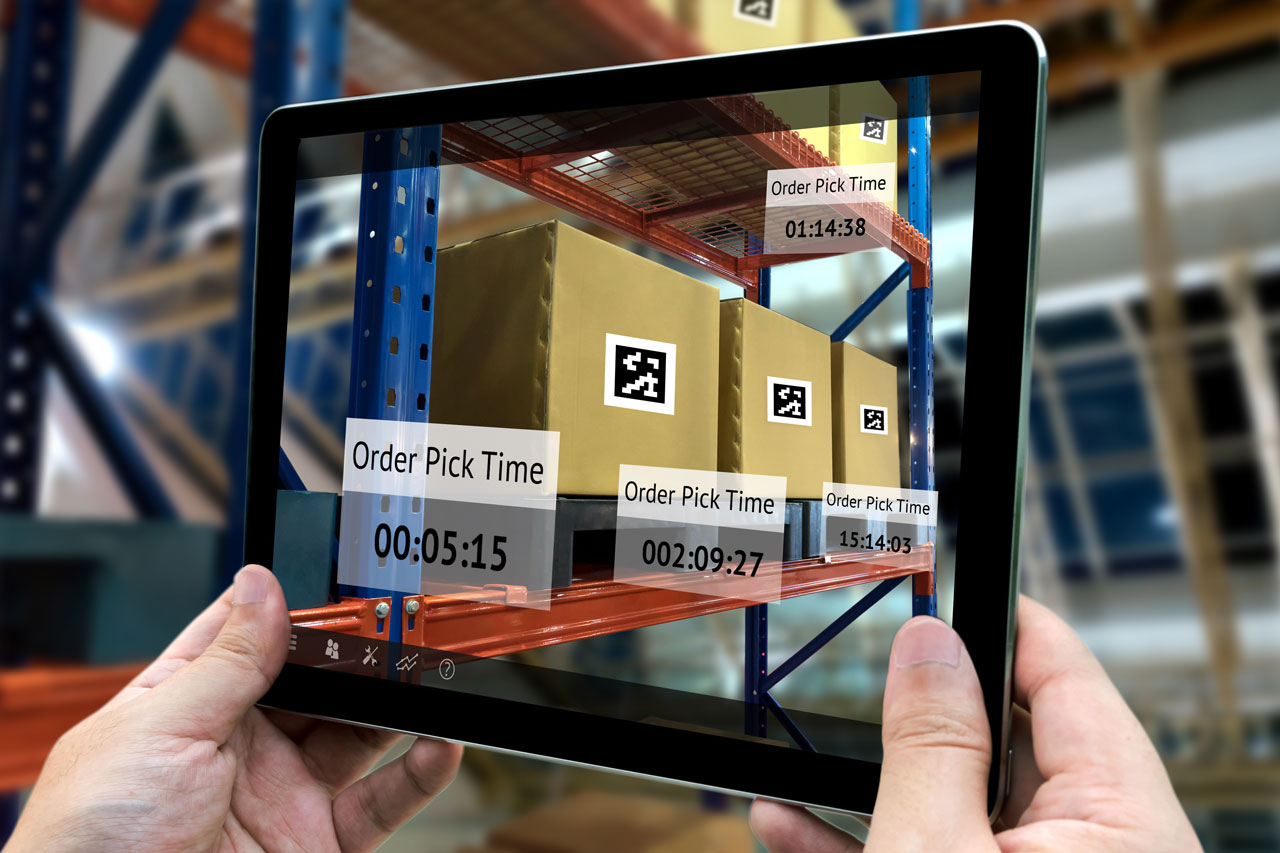 Augmented reality (AR) is one of the most visibly futuristic developments in recent years. It's also one of the most useful; unlike full virtual reality it can be easily integrated into everyday situations to provide immediate benefits. Consumers are already seeing the benefits; ParcelBroker's AR app allows users to quickly and accurately size up a package and choose a range of delivery services straight from their smartphone.
AR has also found a home in warehousing operations, where workers are given a set of AR viewers to guide them while picking and packing items for delivery. Businesses which integrate AR into their warehouses are seeing orders picked almost twice as fast, while at the same time errors fell by 40%. Fewer mistakes means fewer costly returns to process.
What impact can we expect to see from AR in 2019? Well, further integration into parcel delivery is likely. One key benefit of an AR-enabled warehouse is that new workers can be quickly and easily guided to items.
This means that warehouses can easily hire employees to cope with seasonal demand; new workers don't need to spend hours learning their way around, and can find items just as quickly and accurately as experienced employees. On-boarding and training times can be cut in half, allowing warehouses to improve efficiency and reduce costs.
During 2019, the UK's mobile networks will begin to offer 5G services. This offers a huge step forward for AR technology; Preben Fjeld of Lenovo says that "with the advent of 5G, the rich capabilities of AR – real life enhanced with computer-generated imagery, remote assistance, object recognition and other powerful content – will leap forward and make meaningful impact to businesses" [1]. We'll start to see AR as an everyday tool, incorporated in everything from apps for measuring parcels to unpacking deliveries from a van.
AR In Delivery Services
One striking illustration of just how powerful AR can be is the WayRay Navion system. By projecting holographic images onto a vehicle windscreen it's possible to create a heads-up display (HUD), which can be used to present information to drivers. The applications for delivery services are evident; drivers can be guided easily to each address, with relevant information such as parcel ID and location in the van displayed on their screen.
The software is available as an SDK, enabling anyone to create their own HUD AR display. While we might not see this particular technology becoming widespread in 2019, AR is certainly going to make itself felt in the next few years.
Your takeaway: This year, AR systems will become more common in warehouses and back-end areas. Further rollout will come as 5G infrastructure comes online; 2020 could be a big year for AR and businesses should be planning ahead.
Hands-Off Deliveries And The Smart Home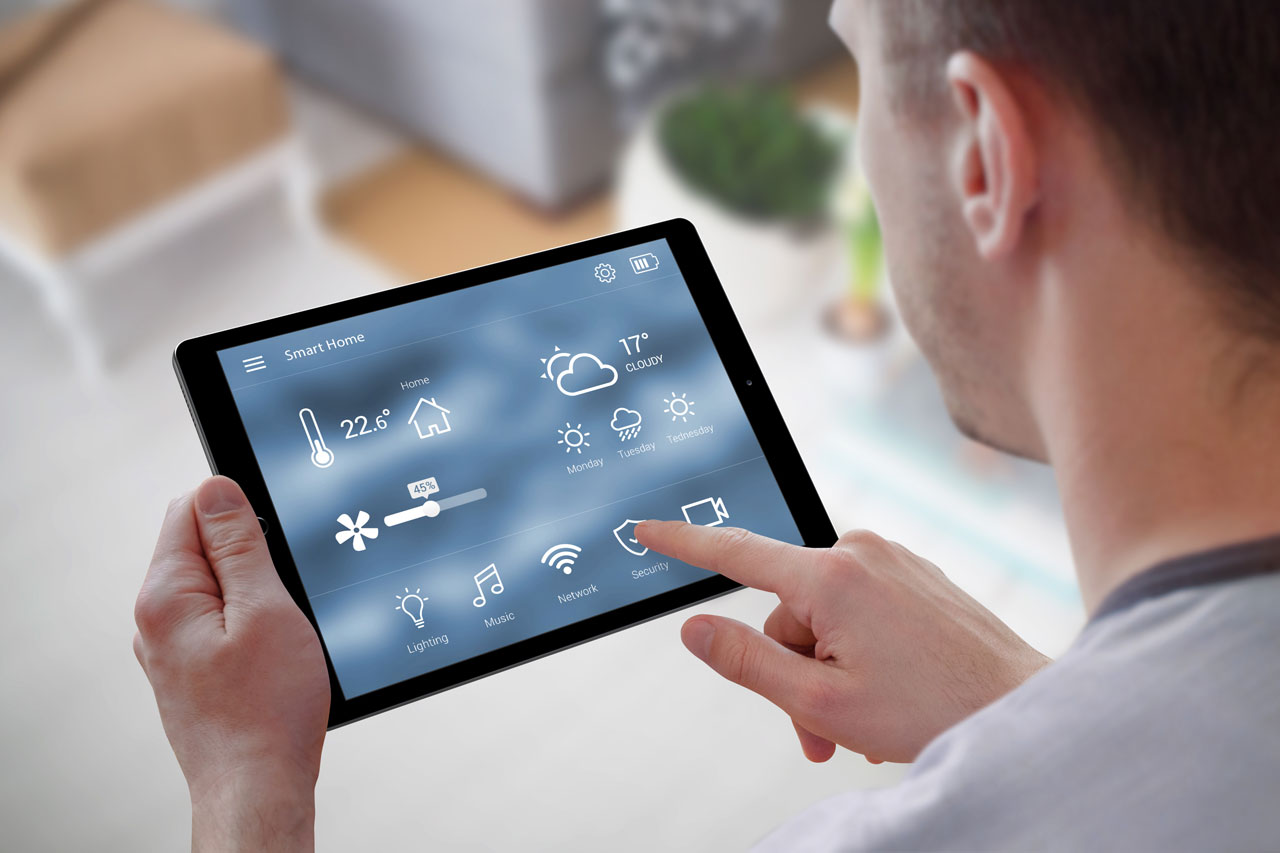 Perhaps the most significant new product of CES 2019 was Google Assistant Connect, a small chip that allows any product to link up with Google Home. More connected devices will enter the market, bringing down costs. Internet of Things ("IoT") appliances will become far more popular in the next few years.
The implications for the delivery industry are substantial. Already, couriers can make deliveries to an unoccupied property using Amazon Key, which grants access to a smart-locked door. Uptake is low at the moment because IoT devices are costly; they're typically only in high-end homes, whose owners are reluctant to grant entry to strangers.
As the cost of IoT connectivity comes down, we're going to see the technology become a feature in more homes. The issue can also be avoided altogether with smart delivery technology like BoxLock, which allows a secure container to be accessed by a courier. Fewer missed deliveries means more efficient services and lower operating costs, so as IoT takes off couriers should look to integrate with it.
Household Shopping As A Service
IoT also has an impact on how people shop. Consumers have already shown that they're happy to buy products "hands-off": Royal Mail valued the subscription box market at £583m in 2017, saying that more than half of 25-35 year olds were signed up.
Combine this with smart inventory systems that can track how much milk you drink, how many nappies your baby needs and which newspaper you read and it's not hard to imagine a world where all your shopping is dropped off as part of a subscription service. This will further increase demand for streamlined delivery services; in order to win business, companies will need to offer reliable "all-in-one" packages of everything a household requires.
Increasing Importance of Fresh Chain Logistics
To make this a reality, transport businesses must improve how they handle perishable goods. Up to 40% of produce grown in the USA spoils before it reaches the market, much of this in transit, so better care can produce big benefits. IoT has found a home here, too; pallets can be fitted with sensors that record temperature data from farm to supermarket. These "smart pallets" enable managers to properly assess the actual remaining life of fresh produce, rather than relying on inaccurate reporting from further up the chain. By cutting back on wastage, fresh food logistics will enable faster, more efficient services that can serve consumer demand for "shopping as a service".
Your takeaway: Cheap IoT devices are coming soon. Businesses all along the supply chain should consider how they can integrate with this new technology to improve efficiency and gain access to new markets.
What Do The Experts Think?
We talked to leading experts from the parcel delivery industry to find out what they expect to see in 25 years' time. Their views reinforce how drastically we can expect shipping to change in the future, especially in the last mile. So, what can we expect the next generation of parcel delivery to look like?
Gregg Temperley, ParcelBroker
"Delivery will be so fast and efficient that high street shops will only need to stock display products. By the time you reach home, your purchases will be waiting for you!"
At this stage, most applications of AR in last mile delivery have been gimmicky and we're yet to see an application that really shows off the capabilities. A great use of AR would give the recipient the ability to scan his parcels and see the product that's packed inside without opening them. We've built our own smartphone app which measures parcels and provides delivery quotes instantly on your phone."
Nick Manolis, Escher
"Deliveries will be directed to people, rather than to a fixed location"
"In 25 years, we predict the postal industry will still be heavily focused around parcel delivery for eCommerce, but with customers having much more control, real time tracking of parcels, advanced notifications of delivery and the ability to dynamically redirect incoming parcels to any location, whether that be at work, home or a trusted person at any other location. Deliveries will be directed to people, rather than to a fixed location."
Helen Norman, Postal And Parcel International
"Home delivery will become a premium service, while delivery to a locker or a click and collect location will become free"
"In last mile delivery, self-driving, automated lockers will travel to central locations and send recipients messages to pick up parcels. I also believe home delivery will become a premium service, while delivery to a locker or a click and collect location will become free. Same-day delivery will become commonplace."
Roger Jones, Cerasis
"For years, this industry has lagged behind but demand for technology and data have challenged this industry to step it up"
"From everything you read around The Internet of Things, to Advanced Machine Learning, to GPS and Cell Connectivity, and things like a Driverless Truck we have seen advances in the transportation arena. The capacity issues today are keeping a lot of LTL ("less than truckload") carriers at bay . . . I think as the market right sizes, and LTL carriers see the capacity issues start to decimate that more will start pursuing this Last Mile freight in both conventional and unconventional ways."
Brad Hollister, Swanleap
"Artificial Intelligence is already having a significant impact in many industries, and the shipping industry in particular is in dire need of such innovation.
"42% of the respondents to a Deloitte study believe that AI will be widely deployed at their organizations within three to five years. Our concern is, with this level of demand and projected adoption - who's going to make it happen? We don't see any other software provider . . . in the transportation and logistics industry offering a comprehensive technology solution powered by AI."